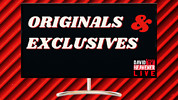 DH Investigates, The Option, & (coming soon) Last Evangelist
DavidHeavener
* Are today's miracles from God - or false signs?
* The Option - a pro-life series with Episode 2 coming Summer 2020.
* Last Evangelist: Jon Rhodes, a federal officer who persecutes Christians in underground churches, forces them to take the Mark of the Beast – the chip. Then one night he has an encounter with God. Jon turns rogue, against the New World Order, and becomes a spiritual warrior in a battle to not only rescue the true believers but to witness to the deceived.
Each episode is a cliffhanger action thriller dealing with end time events – many of which are already happening today. To be notified when it releases, register at
https://DavidHeavener.tv/last-evangelist
| | |
| --- | --- |
| Videos: | 0 |
| Views: | 1,887 |
| Members: | 4 |